Owning a new home is quite presumably, on the wishlist of almost everyone. In fact most of us, work tirelessly through the years in hope of one day owning that dream home, amongst other possessions. And we're pretty sure we all love to dream big, and why shouldn't we !?! When investing your hard earned life-savings, you want the best that your money can buy. However, investing in that perfect crib can be quite the challenge. With the scores of property advertisements that are thrown at you almost everyday, it becomes imperative for you to not only understand the various industry terms you read in these ads but also to stay up-to-speed with what's current in the real estate world. So where exactly are we going with this? We'll get to that in the next few lines.
We've all at some point or the other, seen a villa either on the tv or in person. Large, luxurious, completely independent, and most often studded with equally luxurious amenities – you'd be lying if you said you didn't aspire to dwell under the confines of such a luxurious abode someday. The sad truth, however remains, that this luxury remains elusive to most of us, largely owing to the soaring real estate prices 🙁 So what do we end up doing? We settle for a regular apartment, that's within our budget.  If this sounds like the story of your life, or anything close to it, then know that Habitat Ventures had you in mind when we pioneered the concept of a Villament, which has garnered us much news spotlight over the years.  Like the name itself reads, a villament is an amalgamation of a villa and an apartment, which gives you the best of both worlds. How so you ask? We list them below one by one.
Affordability of an apartment: With this new model of community living you get the luxury of living in a villa, at prices that are affordable and within your budget.
Privacy & Exclusivity of a villa: As opposed to the high number of homes in a single apartment complex or tower, a villament ideally consists of around 5 homes in a single building with ideally not more than 2 homes on a single floor. In addition to this, the interiors of a villament are designed much like that of a modern villa – with privacy, exclusivity and even a garden area for each home.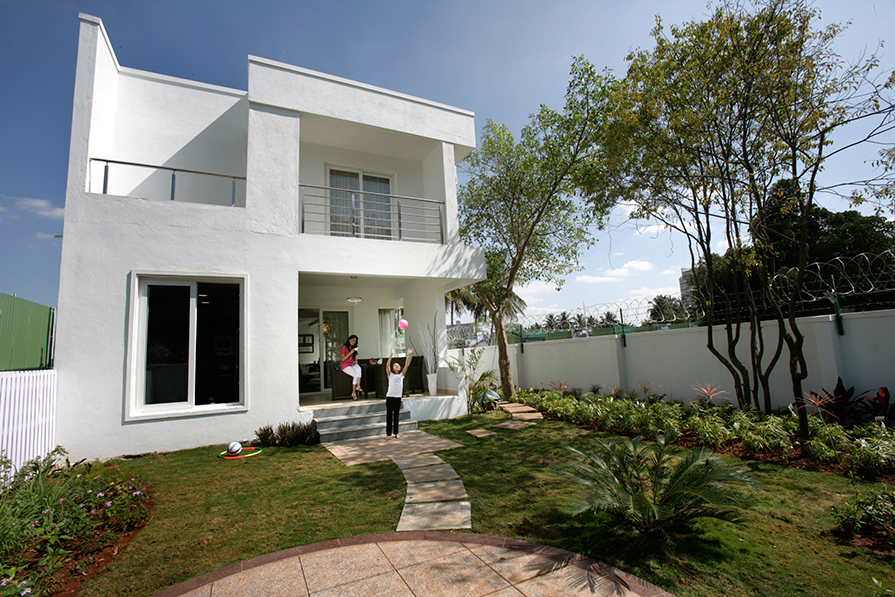 Amenities of an apartment: Yes! you even get to enjoy the  amenities which residents of an apartment complex do, most commonly a club house and a swimming pool, and with certain premium luxury villaments such as Habitat Crest, even game courts for basketball, tennis and squash.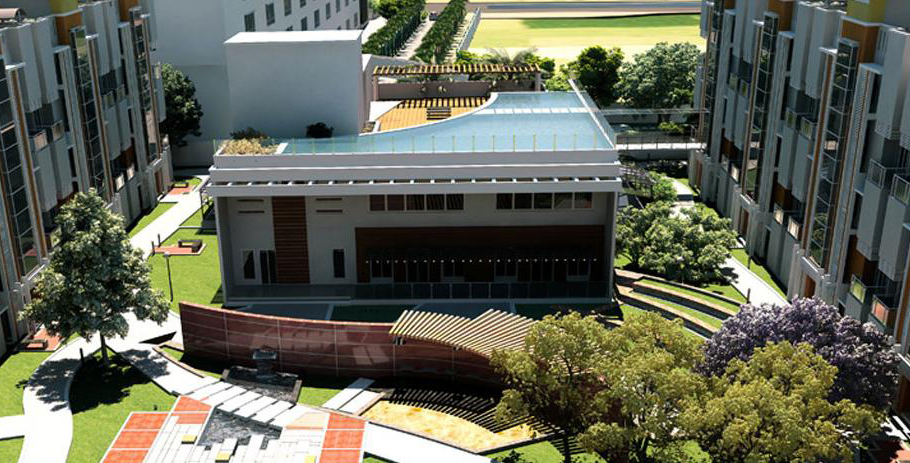 .
The comparison chart below perfectly summarizes the benefits of our Habitat Crest villament (winner of the prestigious Asia Pacific Property Award 2013) showing you exactly why one should be investing in a villament, as they are clearly the future of real estate.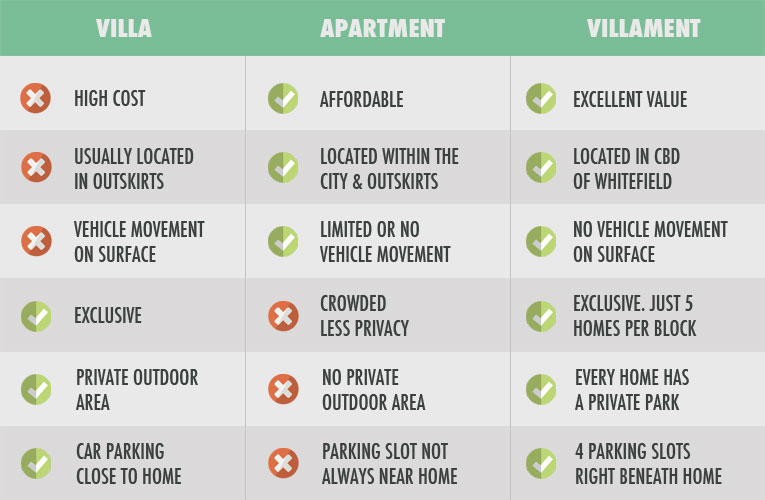 .
Also not to mention, owning a villament adds huge points to your prestige, making you part of a very elite club of home owners who have seen the value and been quick to jump on the ship of this new genre of housing in the Indian market. So much so that many renowned and upcoming builders have drawn inspiration from us and have begun offering their customers similar offerings. And to this, we simply raise our collars up and remind ourselves of the quote by Charles Caleb Colton, "Imitation is the sincerest form of flattery" 🙂